Wine Appreciation 101 Tasting
October 16 at Monterey Recreation Centre in Oak Bay.
The group used a 100 points rating.
90+  = Solid wine. Well worth buying. You will like it.
80+  = Tasty and above average.  Recommended.
70+  = Simple, drinkable everyday wine.
TASTING NOTE
Mission Hill Pinot Gris 2016

This is a very good example of Pinot Gris from our backyard, the Okanagan Valley. Very enjoyable.
---
Beaujolais Régnie Maison des Bulliats 2015

Rediscover Beaujolais with this delicious wine. Medium-bodied, pack with red berries, plums, well-balanced with a velvety finish. An interesting note: the first vines of Régnié were planted by Reginus, a Roman nobleman.
---
Rodney Strong Chardonnay 2014 and Christian Moreau Chablis 2014 – oak vs no-oak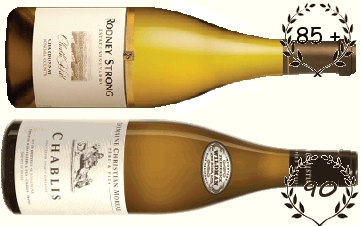 These two great producers are from very different corners of the wine making world, France and United States, yet they share a deep understanding of the art of 'Chardonnay wine'.
Rodney Strong – Barrel fermentation in new and seasoned French oak offering toasty vanilla and spice. Full-bodied with a creamy palate, and sweet apple and pear flavours.
Christian Moreau – The winemaking and aging are all done in stainless steel vats. This is a  well-balanced, fresh, elegant young Chablis offering generous green apple and pear flavours.
---
Escorihuela Malbec 1884, 2016

This captivating and delicious red  was a favourite of the group because of the terrific quality/price ratio (under $20). Everything you would want from an Argentinean Malbec .
---
Serafino Shiraz 2014

This wine is rich and concentrated, with aromas of plums, blackberry, blueberry, spices, and soft tannins. Simply yummy!
---
Chateau Sergant, Lalande de Pomerol 2010 – Sterling Merlot, Napa Valley 2012 – France vs US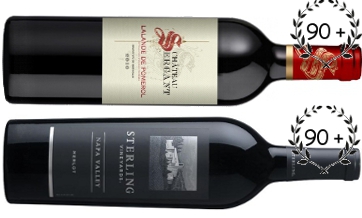 Chateau Sergant – This Merlot-based wine with a bit of Cabernet was smooth with cooked dark berries, hint of vanilla, and fruit cake flavours. Drink now.
Sterling – This easy drinking Merlot offers a plush mouthfeel with ripe red fruit,  toast and spice notes. A perfect Christmas gift.
Cheers!