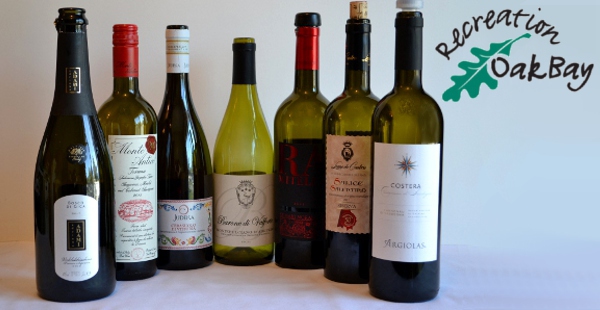 Viva Italia Wine Tasting
A room full of wine enthusiasts got a treat last Monday night for the 'Viva Italia – Part 2'  at Monterey Rec Centre. The line up featured 7 liquid treasures from central and south Italy.
Thank you to the following sponsors that made this event a great success:
Empson Wines Canada – Passionate about great wines.
Bonvida – Importers & Distributors – Promoting wine enjoyment.
Enoteca Bacco – Importers of Fines Wines & Spirits.
We used broadly the popular 100 scale wine rating.
90+ ~ Simply delicious from the first sip!
85+ ~ Very good and offer great drinking pleasure.
80+ ~ Nice and flavourful.
75+ ~ Drinkable, above average.
70+ ~ Simple for everyday drinking.
7 wines to transport you to Italy

ADAMI PROSECCO BOSCO DI GICIA BRUT DOCG – VENETO
A few words to describe this Prosecco "Ooh…this is delicious!" This bubbly has a lovely straw colour and displays fine mousse. First and foremost apple and citrus flavours. Crisp, pleasurable with a rich mouth-feel. Available at Vessel Wine store (Oak Bay), Vintage Wines store (Victoria), Marquis Cellars (West End).  Overall rating 90+

MONTE ANTICO  IGT –  TUSCANY
A modern wine made of of 85% Sangiovese, 10% Merlot and 5% Cabernet. It offers black cherry and plum, spices, and a hint of earthiness. Elegant with a pleasant finish. Available at BC gov't liquor stores. Overall rating 85+

JUDEKA CERASUOLO DI VITTORIA DOCG – SICILY
The only Sicilian wine that can boast dell'appellazione "DOCG".  Display  very pleasant aromas.  A wine that offers lots of red and dark  berries, fruitfulness of Nero d'Avola grape with the floral qualities of Frappato. Very easy drinking. available at BC gov't liquor stores. Overall 90+

BARONE DI VALFORTE MONTEPULCIANO D'ABRUZZO DOC – ABRUZZO
A great example of Montepulciano grape. Full-bodied and friendly with luscious flavours of black plum and sweet spice. Will be fantastic with roasted meat.  Available at BC gov't liquor stores. Overall 85+

DI MAJO NORANTE RAMITELLO BIFERNO DOC – MOLISE
A great wine from an unknown region of Italy. #74 Wine Spectator's Top 100 in 2014.  Good aromas of ripe fruit. It offers  plum fruit, licorice,  earthiness and has manageable tannins.  Available at BC gov't liquor stores. Overall 85+

LEONE DI CASTRIS SALICE SALENTINO RISERVA DOC – PUGLIA
A wine made of Negroamaro and Malvasia Nero grapes. A top wine from the region. Rich, full-bodied with lovely ripe fruit, toasty notes and satisfying finish. Available at BC gov't stores. Split vote 80+ & 85+

ARGIOLAS COSTERA CANNONAU DI SARDEGNA DOC – SARDEGNA
Cannonau is the Italian name for Grenache grape. Good intensity aromas. Complex and balanced with hints of sweet black fruits, cherry and spices. Warm, well-rounded with not too excessive tannins and a  lingering  finish. Available at BC gov't liquor stores. Overall 85+
Salute!