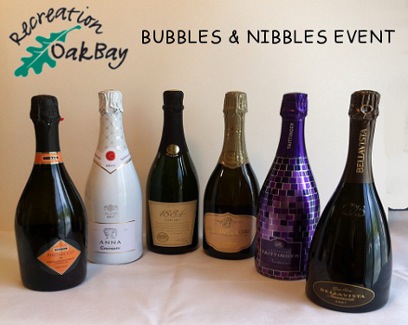 A Special Sparkling Wine Tasting – Bubbles & Nibbles Event
Awesome event and many thanks to the sponsors that made the evening so deliciously bubbly!
DAVID HERMAN & SON – Wine & Spirit Merchant
ANDREW PELLER – Import Agency
BURROWS, LUONGO & ASSOCIATES inc. – purveyors of Wines & Spirits
Kitchens  Of Distinction catered the nibbles.
All the wines are available at Signature BC gov't stores, and at selected private stores.
We used broadly the 100 scale wine rating.
90+ – delicious with special qualities.
80+ – good and satisfying better than average.
70+ – value and drinkable wine.
Tasting Notes

PROSECCO TERRE – 90 POINTS
Prosecco wine fits in the brunch, fun, and good time categories. This wine is refreshing and displays fragrant, fruity aromas. It offers lemon zest and peach flavours with hints of minerality.

CAVA ANNA CODORNIU – 90 POINTS
Awesome value for the price. It displays lovely aromas. On the palate, it gives a rich texture with tropical and citrus flavours. With Chardonnay in the blend, this wine offers a smoother and a bit more complex than most Cava.

SPARKLING WINE ESCORHUELA 1884 EXTRA BRUT – 85 POINTS
Argentina is more than Malbec. This enjoyable sparkler from Mendoza is made from Chardonnay and Pinot Noir. A satisfying bubbly that offers good fruit, biscotti, and citrusy flavours. Try something different.

CRÉMANT DE LOIRE PAUL BUISSE – 90 POINTS
The Crémant De Loire is always made by the Champagne method. The Paul Buisse Crémant is a blend of Chenin Blanc and Chardonnay that produces a rich and flavourful sparkling wine. The bottles are laid on wooden lattes racks for 12 months to mature, resulting in a very delicate, aromatic wine containing tiny bubbles. Its fragrant aromas are reminiscent of brioche, with overtones of quince, lime blossom and honey that are characteristic of Chenin.

FRANCIACORTA BELLAVISTA GRANDE CUVÉE 2007 – 90 POINTS
Franciacorta has gained a reputation for miniature Champagne. Tasting the Bellavista, everyone at the event would agree that this reputation is well deserved. Elegant with fine effervescence and well-balanced. Richly layered with apricot and bread dough notes. Good finish.

CHAMPAGNE TAITTINGER NOCTURNE – 90 + POINTS
Beautiful packaging, beautiful Champagne. The Nocturne is rich, sensuous, and smooth with fine mousse. Peachy on the nose, with white fruit and sweet brioche flavours. The Taittinger label is always worth the money.
Cheers!